By Michael Streicker, President of Sentinel Real Estate Corporation
Australia has a need for innovation in housing. At Sentinel, we expect continued growth in demand for housing and within that demand, a desire for premium product with amenities, services and sustainability outcomes that have not previously existed in the Australian marketplace. The current model does not address these needs for renters or typically allow for institution investors; however, the Build to Rent model offers a solution and an opportunity for both renters and investors.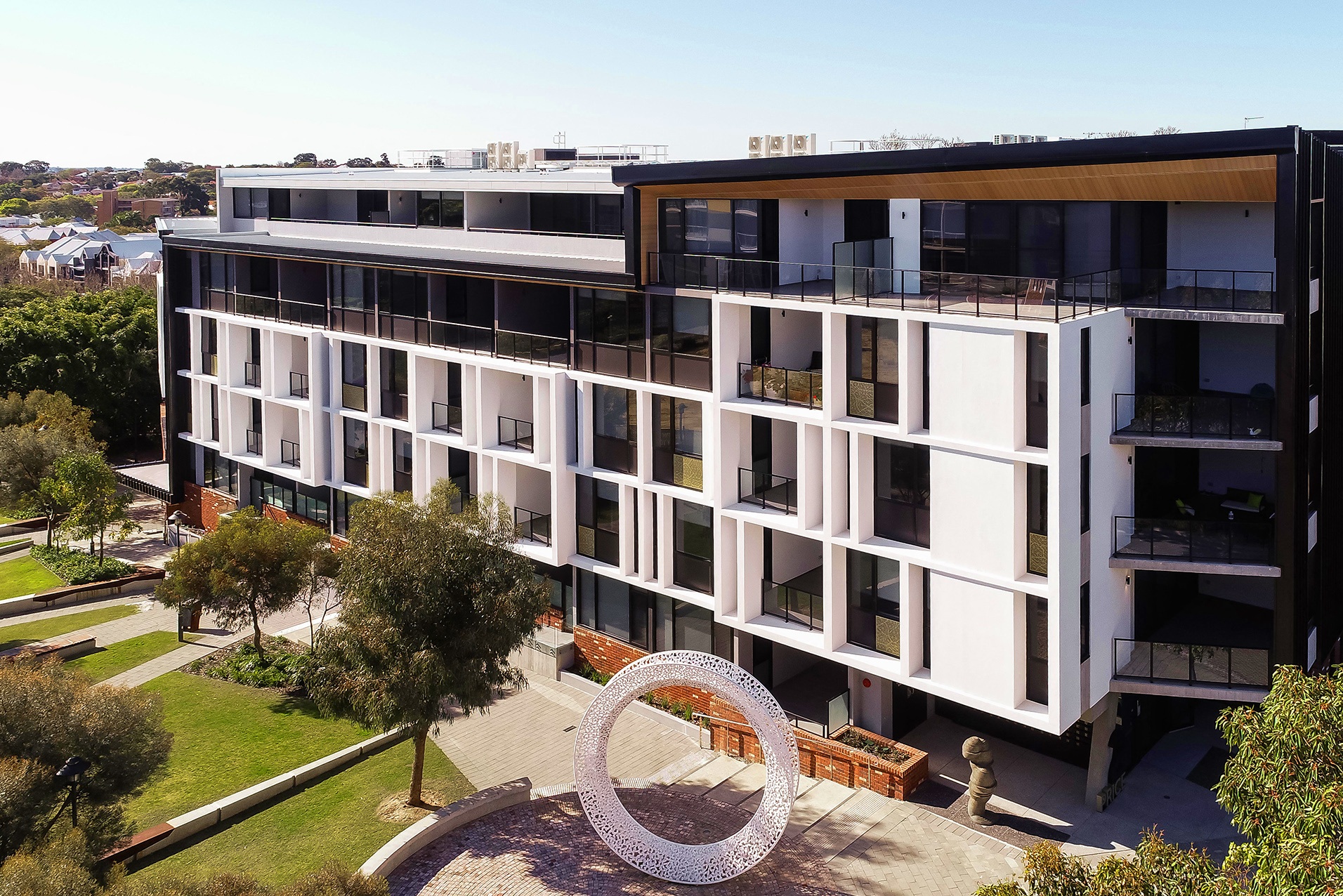 Element 27, located in a Perth suburb, is Australia's first ground-up build-to-rent development. Sentinel Real Estate Corp opened the property in 2019.
For the Renter
Under the established Build to Sell, or strata, system in Australia, units are pre-sold to individual investors who in turn rent them out. As a result, the rental market is highly fragmented with landlords primarily motivated by asset value appreciation rather than service to their tenants. For renters, this structure has resulted in inconsistent management and maintenance experiences and expenses, bidding wars, and limited rights that increase the cost of renting. Furthermore, strata developers do not intend to operate the property long-term, and as a result, often select less expensive and less efficient appliances and building systems during construction at the cost of future owners and renters.
Build to Rent is an entirely new rental experience for Australians that focuses decision-making around the resident – including equitable leasing protocols based on clear qualifications; a first-come, first-served application process; consistent quality in building materials, finishes and appliances; thoughtful amenities that provide opportunities for community-building; and planning policies that address gaps and create pricing consistency in the rental market.
At Sentinel, our 52-year history of investing in and managing institutional-quality multifamily properties across the US has informed our significant expertise in what it takes to offer communities that deliver exceptional living experiences to residents and strong returns to investors. Recognizing the need in Australia over 10 years ago, we began investigating the market and laying the groundwork to create institutional-quality rental housing. The success of this concept has been proven at Element 27, Australia's first ground-up Build to Rent development, which Sentinel opened in 2019.
Element 27 was developed to include durable materials that extend the lifecycle of the original investment and reduce maintenance for both the resident and the ongoing management team. A particular emphasis was placed on the interior of each unit, which was designed to be larger than the average comparable Build to Sell unit, with superior finishes, comprehensive appliance packages and thoughtful layouts. The tenants enjoy 24/7 on-site maintenance, on-site building management and a host of mindful amenities including a state-of-the-art fitness center, a pool with a sundeck and cabana and a rooftop terrace with an outdoor kitchen and lounge. For residents whose needs may change over time, there is flexibility in unit options, assuring that they can continue to reside in a development and in a neighborhood that they enjoy.
The property was fully leased in 8 months, which exceeded underwriting expectations. The lease-up period started out relatively slow as the Build to Rent concept was unfamiliar in the Perth market. However, as we educated the market, we began to see significant interest as this compelling new concept began to spread through word-of-mouth. Since reaching 100% leased, the property has experienced a renewal ratio of approximately 70% – significantly higher than traditional US multifamily housing, which is typically around 50%-55%.
Apartment kitchen and community social room with coffee bar at Element 27
For the Investor
While the Build to Rent market in Australia is in its early stages, it is a highly regarded emerging asset class with tremendous opportunity for growth. It is much more established in the US, with investments expected to reach $148 billion in 2021, and in the UK, where investment has expanded significantly since 2013 with the help of the government. In fact, Build to Rent now accounts for one in four new homes built in London. The similarities in culture and society between these countries and Australia provide a strong foundation from which to develop a platform that is tailored to serve this market.
The typical Build to Sell strategy, because the property is subdivided amongst owners at completion, misses a fundamental opportunity to create a product that meets real consumer needs for consistent, high-quality housing while generating stable, long-term cash flows and better returns for investors. The singular management style of the Build to Rent strategy also allows the investor to minimize operational costs, optimize building performance, and ultimately create homes and communities that appeal to – and retain – tenants for the long term.
To illustrate this point, Element 27 has achieved a rental premium of 20%-30% over comparable strata rental apartments in the surrounding neighborhood. Following the success of this property, we committed to two more phases, which will deliver another 172 units to the market over the next 18 months. We have also expanded the platform into Melbourne, where our first 172-unit development is under construction and expected to open in late 2022. Our pipeline in Australia currently calls for the delivery of more than 1,200 units over the next three to five years. We are continuously seeking additional sites in the Eastern States, and we have continued to expand our acquisition teams in these markets to address the increasing demand for these opportunities from investors.
The Importance of ESG
Climate change has brought a new urgency to sustainable investing and a growing recognition that ESG factors have an impact on investment performance. In fact, with global institutions increasingly identifying mandates for socially impactful investing, it is not only irresponsible to ignore sustainability, it is also potentially detrimental to the ability to raise capital.
From our perspective, not only do ESG efforts help to lower operational costs and reduce the environmental impact of properties – a critical need as buildings are estimated to generate around 40% of global greenhouse gas emissions annually – but they also help to drive resident satisfaction, leading to longer tenures and ultimately driving returns for investors. In the US, where the rental housing market is more mature, data from an AMLI Residential tenant survey in 2019 showed that 80% of residents believe living in a "green" apartment is beneficial to their health, and 61% were willing to pay more to live in a sustainable community.
Our goal is for our entire Australian portfolio to meet a net zero carbon emission mandate – and doing so would make this the first Build to Rent platform anywhere to achieve this. To that end, we've worked closely with the Green Building Council of Australia (GBCA), Climate Active and our consultants at Stantec to help create a pathway for newly constructed Build to Rent communities to achieve carbon neutral certification.
In comprehensively managing the process from construction through ongoing management and maintenance, the owners and operators of Build to Rent properties can influence each building's systems, finishes and fixtures to ensure consistency with anticipated investment lifecycle costs and emissions. This enables them to manage and maintain high-performance products with minimal waste and maintenance, and also provides the ability to track diverse data sets on a consistent basis and optimize building performance in real-time. Armed with this data, Build to Rent managers can more quickly collect the significant data needed to document environmental benchmarks, allowing for faster pathways to related certifications for their buildings.
Element 27 recently became the first apartment property in Australia to receive carbon neutral certification along with an industry-leading 8-star NatHERS rating. Key sustainability features include electric car charging stations, energy efficient appliances, a 30kW photovoltaic system for common area energy, specialty waste streams, access to a centralized geothermal system, a rainwater and grey-water recycling system, occupancy sensors and an embedded metering network. Bringing significant managerial resources to the community, we can ensure that future operational practices, amenity offerings, installations and upgrades continue to meet or exceed the high sustainability goals, equitable practices and social engagements sought by both our investors and our residents.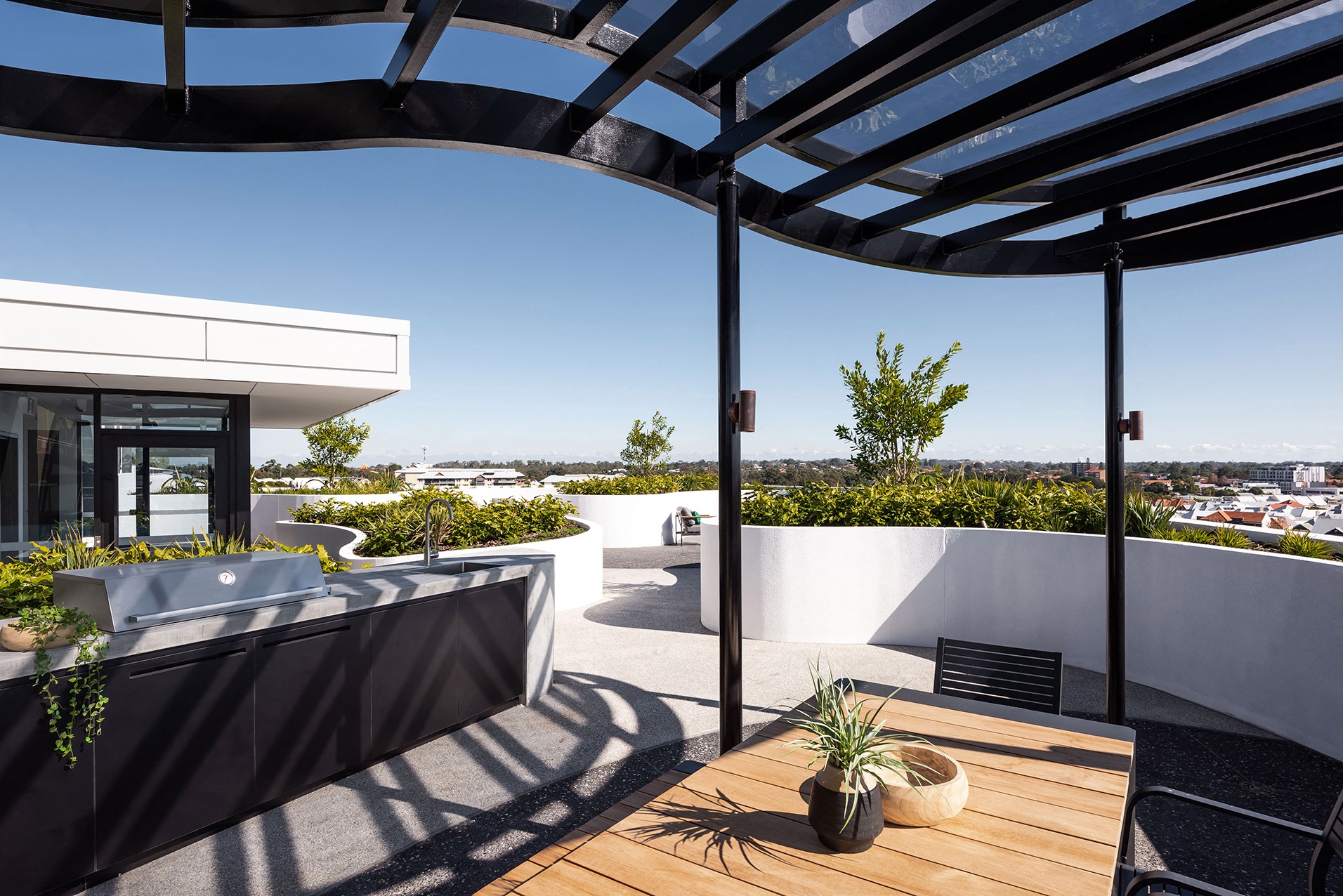 Element 27 rooftop terrace with outdoor kitchen and lounge area
For the Future
As a nascent asset class in Australia, the Build to Rent sector has a long runway for growth, and others have also entered the space, recognizing the investment opportunity. Like most places in the world, Australia is experiencing a housing crisis – in both supply and affordability – and this is one of the reasons we've seen the Build to Rent pipeline expand by more than 68% since last year, according to CBRE. As with the multifamily markets in other countries, investor interest in the asset class continues to be driven by the ability to generate stable cash flows.
The past several years have seen Australians shift their perspective on many aspects of the property market, including renting and home ownership. We're confident Build to Rent will continue to have high growth prospects in years to come as it is a viable way to provide residents with quality homes, while creating greater convenience, flexibility and amenities, as well as fostering a sense of community.
Being a first mover has its challenges and advantages. From educating the market to working with government agencies and organizations like the GBCA and Climate First, we have had the opportunity to more deeply comprehend the unique needs and values of the Australian market. We believe we have reached an inflection point where awareness and understanding are driving sustained investor and resident interest that we expect will lead to explosive growth and opportunity in the coming years.