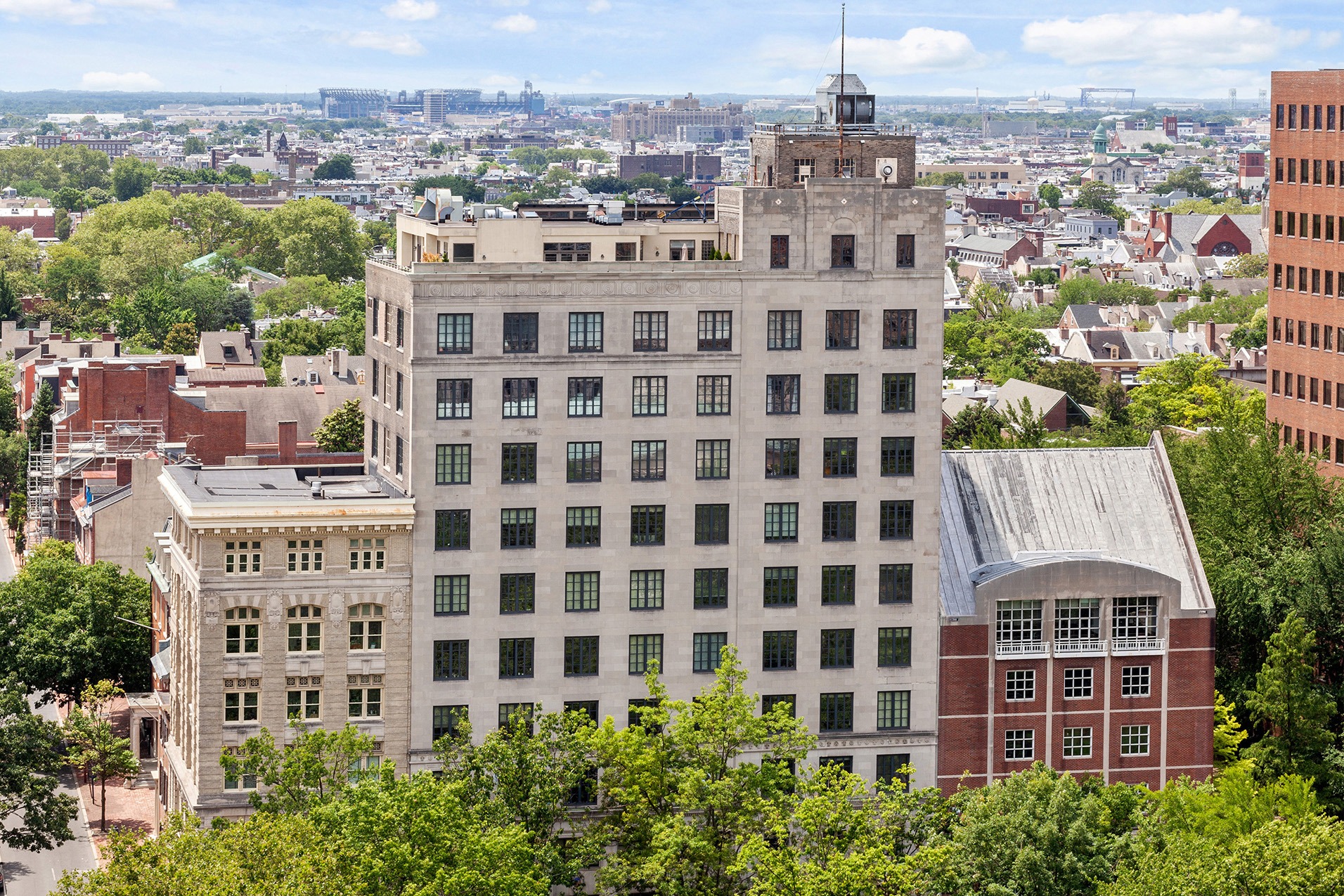 The Broderick is ideally located in the Society Hill neighborhood of Philadelphia, near Washington Square Park and Independence National Historic Park.
Sentinel has recently acquired two high-rise apartment communities – The Broderick and The Republic – totaling 213 units and located in Center City Philadelphia. These acquisitions presented Sentinel with the opportunity to increase its investment in the rapidly expanding Philadelphia market. The transactions follow the recent acquisition of Madison Lansdale Station, a 186-unit mid-rise apartment community located in Lansdale, PA, approximately 32 miles northwest of Philadelphia's City Center.
Both The Broderick and The Republic benefit from superior walkable and transit-oriented locations with significant rental rate upside potential through comprehensive unit upgrades and over 5,000 square feet of retail space within each. Moreover, their location in Center City offers proximity to top employers and an extraordinary range of dining, entertainment and cultural attractions.
"With The Broderick and The Republic, we found a compelling opportunity to acquire institutional-quality assets in two of Philadelphia's most desirable neighborhoods, attracting a wide range of residents who want to live and work in the heart of the city," said Michael Streicker, President of Sentinel. "These locations have also seen significant post-pandemic recovery, with increasing in-migration, strong rent growth and a return to the urban vibrancy that remains a signature of the city's culture and lifestyle."
Sentinel has been active in the Pennsylvania market throughout its 53-year history, having owned and operated 12 properties in the state. Currently, Sentinel owns and operates four properties in Philadelphia submarkets, in addition to these new acquisitions. The firm will continue to leverage its market expertise and deep industry relationships to identify attractive investment opportunities and expand its portfolio in the region.
The Broderick
The Broderick occupies an irreplaceable location next to the nation's most famed city parks and museums in historic Society Hill. Surrounded by Washington Square Park, Independence National Historical Park and the Delaware River, The Broderick benefits from its proximity to these landmarks, which also protect its unparalleled views and, combined with reduced tax incentives for new construction, limit new supply in the market. Additionally, The Broderick's highly visible location within Society Hill draws a steady demographic base of mature, well-established professionals with strong employment profiles who are willing to pay a premium for luxury unit finishes in a concierge-serviced building.
The Broderick is a boutique community comprising 69 apartments averaging 854 square feet. Residences boast quartz countertops, stainless steel appliances, luxury wood-style flooring, spacious closets, in-unit washers and dryers and oversized French windows with breathtaking views. Amenities include a penthouse-level resident lounge, an entertaining kitchen and a complimentary coffee bar. The previous owner recently renovated 46 units and Sentinel has identified a substantial value-add opportunity to renovate the remaining 23 units to capture additional rent premiums.
The Republic
The Republic is a 144-unit community conveniently located in the heart of Rittenhouse Square, Center City Philadelphia's most sought-after neighborhood. Boasting some of the highest per-square-foot rental rates in the city, Rittenhouse Square features luxury hotels, high-end retail, world-renowned restaurants, energetic nightlife and an extensive array of art and culture offerings. The property features a rooftop overlooking the scenic Rittenhouse Square Park and is within a ten-minute walk to over 46.8 million square feet of Class A office space and to many of Philadelphia's largest employers both in Center City Philadelphia and in University City. Furthermore, residents are in proximity to various public transportation options along SEPTA's Market-Frankford line via the 30th Street Station and the 19th Street Trolley Station.
Residences at The Republic average 695 square feet and feature nine-foot ceilings, quartz countertops, stainless steel appliances, luxury wood-style flooring, spacious closets, full-sized washer/dryers and oversized windows with stunning views. Previous ownership renovated 84 units and Sentinel has identified a significant value-add opportunity to renovate the remaining 60 units to drive rent growth while retaining a notable value compared to top-of-the-market properties in Center City.
The acquisitions received coverage in a number of publications:
Philadelphia Business Journal
Bisnow
Multifamily Executive
See more of Sentinel's portfolio and learn more about our multifamily assets.