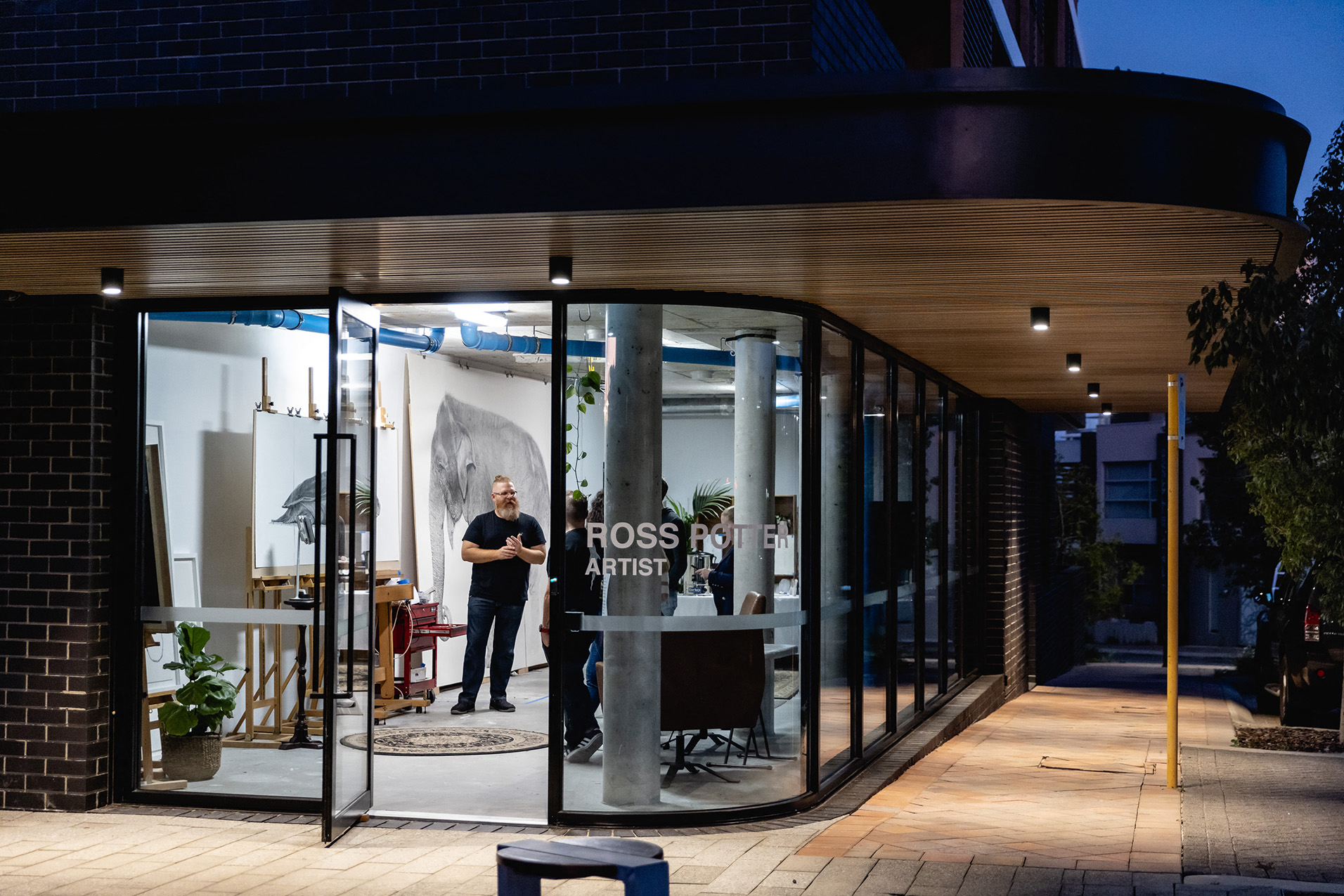 Artist Ross Potter hosts an open house in his studio at Element 27 for residents and members of the community.
Sentinel has recently welcomed local Perth artist Ross Potter to its Element 27 Build to Rent development in Subiaco (Perth) for a six-month residency.
This residency marks the second instalment of Element 27's ongoing arts program, which aims to celebrate local artists and makers, while engaging the precinct's residents and wider community.
Ross' artwork highlights environmental preservation in Western Australia and animals native to the land, with well-known works including the life-size sketch of Perth Zoo's iconic elephant Tricia for Fremantle Arts Centre. Since his first solo exhibition in 2011, Ross has worked as a full-time artist with various residencies across the state, including the prestigious Cossack Art Award in 2019 and at Fremantle Arts Centre in 2020.
As a part of his residency, Ross has already run a number of interactive drawing workshops for Element 27 residents and members of the local community, as well as a special open studio night to provide residents with more insight into his latest series of works.
"It's fantastic to be a part of Element 27's public art program and have Sentinel's support," said the artist. "I'm looking forward to completing a number of new artworks during my residency and continuing to engage with residents and the local community in the process."
During his time at Element 27, Ross is creating a series of works reflecting on his recent journey to Barrow Island, which is located off the Pilbara coast in Western Australia. These large-scale graphite drawings will depict some of the remote island's unique landscape and rare fauna, including the Perentie.
"Ross is a very talented artist and we're delighted to support his work by hosting him in residency at Element 27, as part of the precinct's broader community arts program," said Keith Lucas, Managing Director of Sentinel in Australia.
"We're proud to collaborate with members of Perth's local arts community and are committed to supporting initiatives that enhance social and cultural connections within and around our vibrant apartment communities."
The first instalment of Element 27's community arts program launched earlier this year in May, featuring a large artwork projection on the façade of an apartment building, titled "Porcelain: Changing Views". Created by local Perth artist Sohan Ariel Hayes, residents and the local community were invited to view the captivating projection installation at an evening event. The artwork was inspired by the cultural contributions of the Australian Fine China factory in Subiaco, which previously operated on the site of Element 27 for 85 years.
The first two phases of Element 27 are both open and fully operational, with the first phase 100 per cent leased and the second phase approaching fully leased status since opening in early 2022. Read more about our Australian Build to Rent Projects.